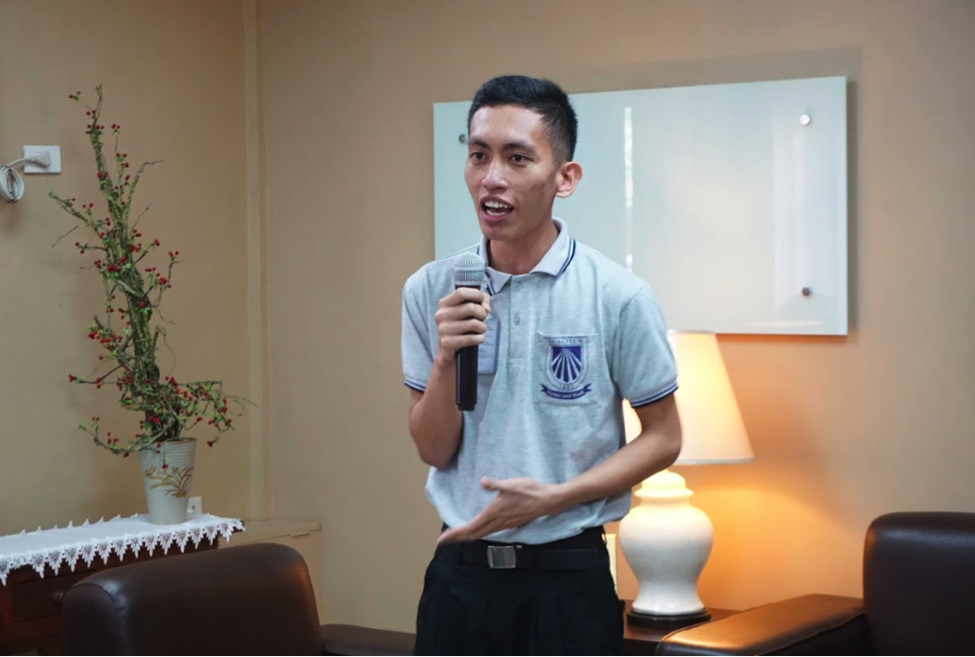 A blue-collar worker from the province is gearing up toward a brighter future for himself and his family, thanks to a recently-inked technical-vocational (tech-voc) partnership between the Aboitiz Foundation and Dualtech Training Center in Calamba City in Laguna.
"Isa akong laborer bago ko nalaman ang Dualtech. Nagpapasalamat ako sa Aboitiz Foundation sa malaking tulong na ito sa akin para makapagtapos ako sa aking pag-aaral. Dahil dito, alam kong magbabago ang aking buhay (I was a labor worker before I found out about Dualtech and its program. I would like to thank the Aboitiz Foundation because this [scholarship] will be a great help for me to finish my studies. With this assistance, I am about to change the course of my life)," shared Zaldy Gavica, a Camarines Sur native and a Dualtech Electromechanics Technology major at Dualtech.
Currently on his second month as a Dualtech scholar, Zaldy dreams of finishing his studies to help achieve a better life for his family. Because his parents do not earn enough to support his schooling, Zaldy works as a laborer and moonlights as a pedicab driver.
Zaldy sees his studies as a stepping stone to lift himself from poverty. He urges his fellow scholars to work hard to finish the program with him.
Like Zaldy, 19 other Dualtech tech-voc scholars werè guaranteed full support for their education through a partnership between the Aboitiz Foundation and Dualtech Training Center in Calamba City in Laguna.
Selected based on academic excellence, skills, and attitude toward completing a six-month training, the Aboitiz Foundation recently turned over Electromechanics Technology scholarships to 20 Dualtech students from various provinces in the country such as Aklan, Bohol, Camarines Sur, and Catanduanes.
The grant covers the tuition fee and training costs of the scholars.
Lolito Baldones, Jr., an assistant welder and painter of Cebu, also aims to finish an education despite not being able to go to college. The third among seven siblings, Lolito was raised by relatives due to his family's poverty.
Currently on his third month as a Dualtech scholar and working as a part-time ramen house cook, Lolito said the Aboitiz Foundation's scholarship will now make it easier for him to make ends meet and achieve his goal.
According to Lolito, he wants to inspire his fellow scholars so that to finish the educational program.
"Marami ang nagsasabi na hindi ako makakapagtapos at magiging adik lang daw ako. Ito ang dahilan kaya nag-pursige ako. Para din sa kapatid kong namatay na nagsabing sana makapagtapos kami kahit wala ang mga magulang namin (A lot of people said that I will not be able to finish studying and that I will most likely become a drug addict. This is why I persevered. This is also for my sister who died; she hoped for us to graduate even if we didn't have our parents with us)," said Lolito during the partnership turnover ceremony.
Zaldy and Lolito are just two of the many inspiring scholars benefiting from this partnership.
"Today, through the Aboitiz Foundation's partnership with Dualtech, the scholars are given an opportunity to discover a new skill and hone their abilities, but with that opportunity is also a responsibility to take part in our advocacy and brand promise of advancing business and communities," said Aboitiz Foundation's First Vice President and Chief Operating Officer Maribeth L. Marasigan.
"As we turn over these scholarship grants, each scholar is now a part of a united effort to co-create safe, empowered, and sustainable communities," Marasigan said.
As part of the group's effort to bridge education and employment, the Aboitiz Foundation supports Dualtech students through scholarship grants. Dualtech is a pioneer of the Dual-Training System in the Philippines, wherein schools and industries train students in real life-work experience in the technical and vocational fields.
In the training program, Dualtech's mode of training delivery involves a combined learning experience for the students — they learn in Dualtech's classrooms through lectures and school-related activities, and outside of school through actual industry work.