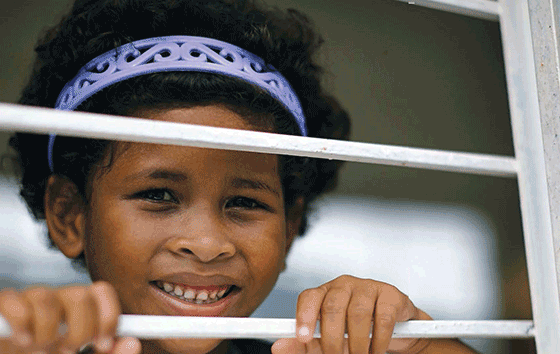 Aira Tarroza
She must have been born with dancing shoes on. Unlike most children her age, six-year-old Aira Tarroza is always "pasayaw" (moves like she's dancing), not "pasaway" (hard-headed). There's a graceful dance in her every movement. It's as if she's always listening and moving to dancing music. It's in the way she combs her hair, the way she puts on her white strappy sandals, and the way she tilts her head as she listens to her teacher in class.
In her family's bare, modest home, she prepares to do her homework. She elegantly bends her legs – like a trained ballerina – and props up her books on her knees while studying. In school, her teachers agree, Aira is, indeed, pasayaw – "pasayaw pumasok, pasayaw umuwi" (dances to school, dances home) they say. Her fluid, willowy movements are beautiful and show maturity beyond her age. She moves, wide-eyed, hopeful, and full of dreams.
Her dreams of a better life and a more secure future are becoming a reality, one day at a time, as she attends classes and plays with children her age at "Silid Pangarap". Aira's dreams, and those of others like her, come to life in rooms like this.
Calangitan Elementary School in Barangay Cutcut, Capas, Tarlac houses one of these preschool classroom-library facilities called "Silid Pangarap" (Room of Dreams). These cater to deserving but disadvantaged IP (indigenous people) students like Aira, making their every dream a distinct and attainable possibility.
A partnership with Aklat, Gabay, Aruga tungo sa Pag-angat at Pag-asa (AGAPP) Foundation and its host of individual volunteers, partner-organizations, and networks, work together to help improve the quality of public education and promote sustainable early childhood care and development.