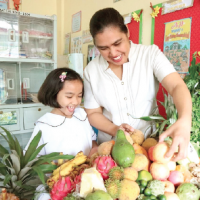 Sound nutrition habits are honed at home: Grade 1 teacher Janette Mercado and her daughter Cassandra, Republic Cement's
Kusina ng Kalinga beneficiaries, strive to live healthy despite financial constraints.

Grade 2 student Cassandra Mercado, fondly called "insulin baby" by her mother Janette, follows a regulated diet as she was conceived not long after her mother developed type 2 diabetes.
Janette teaches Grade 1 students of Bilogo Elementary School in Taysan, Batangas, where Cassandra also goes. Her daughter's condition drives Janette's tenacity to include teaching healthy eating to all her students, who are not all conscious about their dietary consumption.
Bilogo Elementary is one among schools with the highest number of students in the "severely wasted" and "wasted" categories in the Kinder to Grade 3 levels. This indicates students having severe to moderate acute malnutrition, according to the DepEd Taysan's baseline weighing activities.
For this reason, it was among the selected schools in Batangas where the first "Kusina ng Kalinga" project was implemented. This is a joint anti-poverty and malnutrition campaign by Republic Cement and non-profit organization Gawad Kalinga (GK). Under the Kusina program, students from Kinder to Grade 3 are provided daily nutritious lunch meals for a full school year. Republic Cement funds the construction of a fully furnished in-school kitchen where meals are prepared while GK oversees the daily operations. Parents from participating schools volunteer and take daily shifts to prepare the meals and collecting, cleaning, and routing the lunch kits back to the kitchen afterwards. The Kusina program also promotes parent-engagement activities like the "Master Kusinera Challenge" to influence and encourage parents to cook healthy yet inexpensive meals at home for their kids. Roughly one month into the project's implementation, 44 out of Janette's 45 students (even the most picky ones) have started to enjoy the veggie-based Kusina lunch meals.
Empowering Alternative Learning System teachers
Being a teacher is one of the noblest jobs there is. DepEd's Alternative Learning System (ALS) teachers are probably up in the hierarchy as they help open opportunities for out-of-school youth and other members of the community who have limited or no access to formal education.
As mobile educators, ALS teachers bring literacy and basic education to deprived and underprivileged Filipinos who mostly live in far-flung communities.
One of them is Marvin Bula Macalalad who has spent the last five years as District ALS Coordinator in Gandara, Samar. He recalls the challenges of bringing basic education to the marginalized sector. "I pass through slum areas, cross rough and muddy roads, and trek uncharted mountains."
Educators like Marvin need further support, particularly in technology tools to keep pace with evolving educational needs and uplifting the quality of the teaching-learning process. CitySavings understands well the plight of teachers and makes notebook computers and LCD projectors available for Marvin and other ALS teachers to use on the job. In 2017, the bank supported 42 divisions nationwide, including the areas of Cagayan, Northern Samar, Iloilo, and Isabela.
Notebook computers and LCD projectors were donated to ALS teachers who are usually deployed to far-flung communities to provide basic education to deprived and underprivileged Filipinos.
Marvin remains very passionate about teaching because his students inspire him. "Knowing that they can pass the national examination, graduate and receive their diplomas so they can proceed to college or find better opportunities is a rewarding experience for me," he proudly shares, claiming his own modest victory.
"My own experience showed me that one can get educated without formal schooling."

– Leonor Briones, Education Secretary