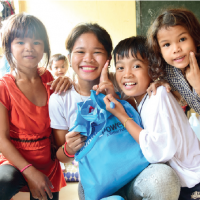 Children of calamity-struck Tigatto, Davao City smile for the camera after receiving their relief goods.
Nothing good usually comes out from a calamity. The aftermath paints devastation, destroyed livelihood, and lives that come to a sudden halt. On the other side of the spectrum are volunteers who try to reach out to victims to bring back smiles, a ray of light, and ultimately, hope to help get them back on their feet.
It was almost Christmas – supposedly the merriest time of the year – when severe tropical storm Urduja and tropical depression Vinta successively hit eastern Visayas and Mindanao, leaving thousands reeling from the devastation caused by flash floods and mudslides. Over a hundred Aboitiz Group team members from Davao Light, Therma South, Hedcor, and Apo Agua, came to their aid through relief operations. The team distributed over 6,000 liters of drinking water, hygiene kits, mats, and blankets to displaced families in Davao City on Christmas Eve.
Duty called for Jade Hazel Gamas, Community Relations Officer of Apo Agua. Despite being booked for a holiday trip, she chose to stay and help out. "Nothing is more fulfilling and rewarding than helping others in need," she says. Smiling and hopeful faces, an excellent showcase of resilience, greeted the team as they worked hand in hand with other community members to distribute the relief goods.
The experience was an eye-opener for Jelly Obregon from Davao Light's Customer Retail Services department. She said it was a humbling experience as the walls of religion, gender, and race came crashing down. There are no Christians nor Muslims; men are not stronger than women; there is no geographic divide. "We are all human beings coming together to help those who are in need," she says.
This is the story of Aboitiz team member-volunteers, manifesting the value of responsibility. Inspired by the Aboitiz Group's long history of compassion, the Aboitiz Foundation and the Group's business units continue to provide immediate assistance to communities affected by natural disasters.
KIDisaster Preparedness Program
There is nothing more assuring for parents than knowing that their children are safe. In times of disaster, kids are the most vulnerable. That is why the Aboitiz Foundation, Pilmico, and the Aboitiz Equity Ventures Risk Management team organized the KIDisaster Preparedness Program, which helps children understand what to do during various disaster events. This is done through games, kiddie shows, role play, and storytelling learning sessions.
In 2017, the beneficiaries in Taguig, Navotas, Tarlac, and Pasig City also received 'go-bags', which contain emergency essentials such as a raincoat, a pair of rain boots, one basic first-aid kit, a hygiene kit, and Pilmico's 'The Care Package' high-energy biscuits.
"We haven't experienced this kind of event since I became a principal in Benito S. Ong Memorial School. Our school is about 20 kilometers from the national highway, so it is too far for visitors. Also, it is located between a river and a mountain, making it vulnerable to natural disasters. In fact, it was even flooded during Typhoon Sendong. Thank you, Aboitiz, for choosing our school," says Victoriano Garciso Jr., School Head of Benito S. Ong Memorial School.
Sa tinood lang, blessed kaayo mi ani kay dako kaayo ni na tabang pareha aning mga habol, tuwalya, kay wala dyud mi mga tuwalya. Murag ma-touch gyud ka ba. Gihatag gyud mo sa Ginoo para makatabang sa amo, ang Ginoo na lang ang mobalos sa blessings ninyo. (To tell you the truth, we are so blessed because these items are a big help for us, like these blankets and towels. It's touching. You were given by God to help us and the Lord will be the one to repay these blessings back to you.)

– Grace Panuncia
Relief recipient and displaced Davao City resident