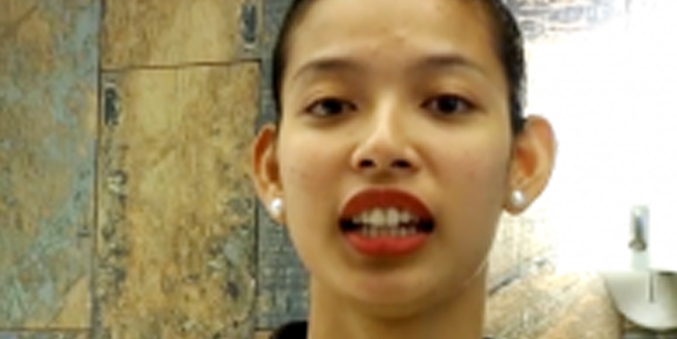 Jeselle Benabaye
A child living in poverty can only dream so much — such as going to college, landing a good job, and eventually helping the family find its way out to a more comfortable life. But for Jeselle Benabaye, nothing is impossible with hard work and determination.
As the youngest in a brood of four and with her father's limited income as an ambulance driver, Jeselle's college education was put on hold. Her mother, a homemaker, said: "It was my fervent wish to proceed to college and take up accountancy."
Her siblings — an older brother and two sisters — on the other hand, had to work while studying to provide for their education needs.
Jeselle was determined to reach her goal. By doing odd jobs such as working for an aunt's warehouse and as a gasoline attendant, she raised enough money to cover her tuition and school needs. Then a friend suggested enrolling at the Banilad Center for Professional Development (BCPD) where tuition fee is minimal and there was an opportunity for a scholarship.
The center's objective is to help young women from poor families gain entrepreneurship skills through training and values formation. Courses offered include Commercial Cooking, Food and Beverage Services, Housekeeping, Baking and Pastry Production, Bartending, and Front Office Services.
With the desire to go back to college no matter what course to take, Jeselle took the entrance exam and passed. She was also accepted as an Aboitiz Foundation scholar.
As a scholar, Jeselle received a diploma after her participation in the annual "Cebu goes Culinary 2014," a competition organized by the Hotel, Resort, and Restaurant Association of Cebu (HRRAC). Though their team did not bag the top awards, Jeselle was able to engage with professional chefs from different hotels and resorts in Cebu as well as aspiring culinary students from universities and culinary schools from Cebu and neighboring Bohol and Negros provinces who also participated in the competition.
"Being a scholar, I I became aware of my sincere desire to contribute an unquenchable thirst for learning new things and continually be open to ideas that will help achieve my goals. The scholarship program helped me acknowledge my own limits and areas of improvement, and adjust to various circumstances. These lessons have been helping me as I work today," Jeselle shared.
Immediately after graduation, the popular STK Restaurant in Cebu hired her, and she continued to move up after. Currently she works abroad at the Holiday Inn in Jordan, and has certainly gone a long way since her days as a hopeful young teenager dreaming of a better life for herself and her family.
"I lived my life believing that one's circumstances should never be considered as hindrances to growth. I dreamed, and believed that my dreams will come true. I am especially grateful for institutions such as the Aboitiz Foundation that helped lead me to where I am now," Jeselle expressed.
To date, the Aboitiz Foundation supports 190 students in BCPD, taking up various courses in hotel and restaurant services. As of today, the foundation has 168 graduates from BCPD, 151 of them already employed, one put up his own business, and the others pursued further studies. Over the years, the Aboitiz Group has already provided 32,000 scholarship grants. The Group through the Aboitiz Foundation commits to support more scholars nationwide as it moves forward with its approach of implementing education projects that will empower lifelong learners in the country, thus contributing to the Aboitiz Group's promise of advancing business and communities.
"Students like Jeselle Benabaye continue to inspire us with their hard work and sheer determination to succeed. Despite the overwhelming odds, she pursued her hopes and dreams in the best way she could. We in the Aboitiz Foundation will continue to support dreamers like Jeselle by co-creating communities that are safe, empowered, and sustainable," said Maribeth L. Marasigan, Aboitiz Foundation First Vice President and Chief Operating Officer.